The Duke of Edinburgh's Award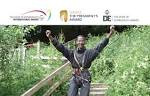 The Duke of Edinburgh's Award was started at Pudsey Grangefield School in Autumn 2015. Students enrol for Bronze Level in Year 9 and the Gold award in Year 12 (although, if requested, we will consider Year 9 students). At present we have pupils from Years 9 to 13 on the scheme working at Bronze and Gold levels.
---
Reasons to get involved
Recent surveys suggest that increasingly employers are not just looking for good qualifications but evidence of the following personal qualities .......

Leadership, teamwork, self motivation, communication, confidence, consideration and the ability to learn
Of all the activities carried out by schools the Duke of Edinburgh's Award came out top in the ability to demonstrate and develop these qualities. So doing the Duke of Edinburgh Award is:
Excellent evidence for CV's, Job and University applications.

Equally important it's great fun, very rewarding and a fantastic way of gaining confidence and skills in new areas.
---

What's Involved?
The Duke of Edinburgh's Award is based on 4 sections:
Service - Such as volunteering, fundraising for a charity of your choice, peer mentoring.
Skill - Build up a skill in an area of your choice e.g. photography, astronomy, crafts, music,
Physical Recreation - Show dedication and progression within a sport. Swimming, Football, Dancing etc.
Residential for Gold only – Undertake a 5 day visit to a Residential Centre as part of a group with a common activity eg, sailing or conservation.
Expedition - Work in a team to plan and go on an expedition for 2 days and 1 night (at Bronze level)
---
Award Level
Min Age
Distance
Duration
Planned Activity
Type of Terrain
Bronze
14

24-32km

15-20mls

2 days & 1 night
Min of 6 hrs/day
Normal/Familiar
Silver
15

48-59km

30-37mls

3 days & 2 nights
Min of 7 hrs/day
Open Unfamiliar
Gold
16

80-96km

50-60mls

4 days & 3 nights
Min of 8 hrs/day
Open/Wild/Unfamiliar
---
Expedition Dates 2017

Bronze Level
Training – 11&12 March at Wike Scout Camp
Bronze Practice: 5/6 June at Wike Scout Camp
Bronze Assessed: – 10/11 July at a camp field in Nidderdale
Gold Level
Gold Practice : 23-25 July North Yorkshire Moors
Gold Assessed : Sunday 12th August to Wednesday 16th August in Yorkshire Dales
---
For more information visit the Duke of Edinburgh website at http://www.dofe.org