Ofsted and Results
Ofsted report
Click here to download our latest report >>
---
Exam results
Some of the key headline indicators are shown below, and more detailed information can be found on the Government's performance tables website. Please note that these are unvalidated results, and do not include remarks and appeals.
https://www.compare-school-performance.service.gov.uk/school/108079
As a school we are pleased that the attainment of our students remains above national benchmarks. Our priority is to continue to improve the progress students make over the time they spend at Pudsey Grangefield. Over the past two years, we have made significant changes that are impacting on improved progress. Many of these have been recognised in the 2016 Ofsted inspection.
| | | | |
| --- | --- | --- | --- |
| 2016 | Pudsey Grangefield | National | Leeds average |
| GCSE | 2016 | 2016 National | 2016 Leeds |
| Attainment 8 score | 50.5 points | 48.2 | 48 |
| Pupils achieving a grade C in English and Maths GCSEs | 60% | 58.7% | 59% |
| Pupils achieving the EBACC | 23% | 22.8% | 22.6% |
| Progress 8 | -0.29 | -0.03 | -0.07 |
| A Level | 2016 | 2015 National | 2015 Leeds |
| Achieving at least AAB in 2 facilitating subjects | 10.7% | 14.7% | 6% * |
| Average point score per vocational entry | 252.1 | 219.5 | 207* |
| Average point score per A level entry | 219.8 | 216.1 | 207 * |
| Achieving qualifications equivalent to 2 A Levels | 96.2 | 92.4% | |
| GCSE Resit (in 6th Form) | 2016 | 2015 National | 2015 National |
| Maths | 33.3% | 27% | No data |
| English | 52.6% | 30% | No data |
*A Level Leeds figs relate to overall A Level performance (vocational and academic)
In particular, the progress of students who have been in receipt of free school meals at any point in the last six years has improved rapidly. In May 2016 we were one of only 21 secondary schools across the entire North of England identified in the IPPR report Northern Schools – Putting Education at the Heart of the Northern Powerhouse as a 'beacon of success'.
Our 2016 A Level results were the best the school has ever achieved and mark a sustained improvement on all measures over the last two years. All of our Sixth Form students leave for higher education, good quality apprenticeships and college courses. Attendance has also significantly improved, and Year 12 retention is 93.1%. The percentage of students retaking GCSE English or Maths and gaining grade C+ in the sixth form was also above national.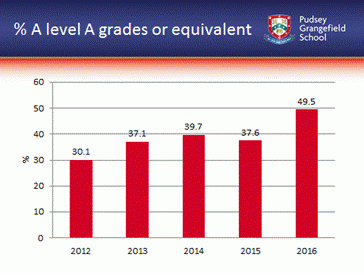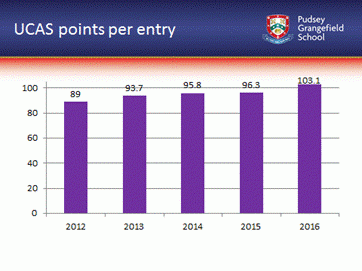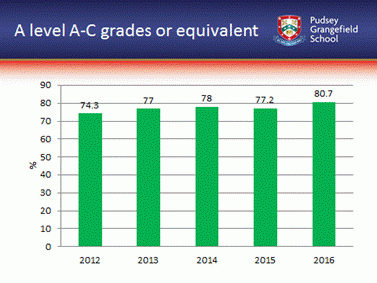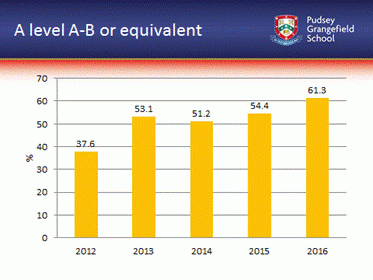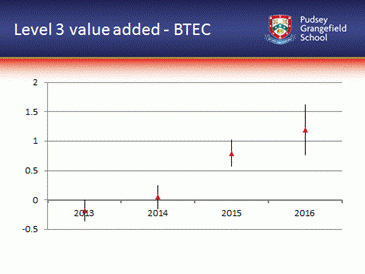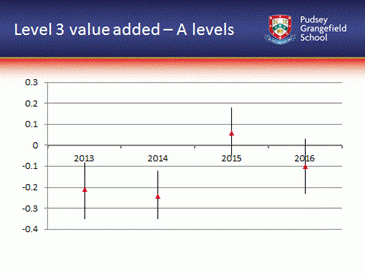 School Improvement Plan
The school is continuing to focus on raising the achievement of all of our students. Some of the key actions for 2016-17 are outlined below:
Quality of Teaching
The quality of teachers has improved through the appointment of 23 new permanent staff in 2016. The vast majority are judged to be 'good' or better, and we have no teaching causing concern. We continue to develop staff by providing high quality professional development opportunities.
All subjects have revised schemes of work to ensure they are challenging, engaging, build successfully on key stage 2 and prepare students properly for the new GCSEs.
A focus on regular exam practice is ensuring that students will enter examinations with confidence.
Frequent marking requires students to redraft and improve their work in red pen. Time for this reflection is built into lessons.
Wherever possible, all lessons will include at least 20 minutes focused silent work, to train students to work independently and develop resilience.
Across all subjects there is a focus on developing extended writing and key literacy skills that are needed for the increased rigour of the new GCSEs.
We demand that students take a pride in their work, and present it neatly using correct equipment.
Behaviour
The ethos of the school is underpinned by a strong set of values that are understood by the whole community: respect, resilience, integrity, compassion, ambition
A team of highly trained specialists ensure that students with individual needs are supported to achieve well.
An attendance officer monitors attendance and has already significantly improved levels of attendance to above national levels for all groups.
Our own careers officer provides students with advice and guidance about their next steps, ensuring that all students continue on to purposeful destinations.
Our Trust partners provide extended opportunities for students to gain critical understanding of the real-world.
We promote respect, tolerance and diversity. We are an inclusive school, where all members are supported and valued.
Leadership and Management
Leadership at all levels has a relentless focus on ensuring all students make good progress.
We welcome communication from parents. All email addresses are on the website and we promote parental engagement in learning through regular support workshops.
We are a member of the Red Kite network of outstanding schools in the region, and share practice in an open, committed and supportive manner that is underpinned by trust.
As part of the Pudsey Confederation we provide a wide range of post 16 options and work closely with Priesthorpe and Crawshaw schools.
We are committed to the training of new teachers and will be part of the Red Kite SCITT from 2016, training the next generation of professionals.