Performance of Disadvantaged Students 2016
In 2015 the school was recognised as a 'beacon of success' in the North by the Institute for Public Policy Research. This report promotes the development of the Northern Powerhouse, highlighting that education is the key to success. Pudsey Grangefield was one of only 21 schools in the North of England to achieve this status, recognising our level of success in raising achievement of disadvantaged students. We were the only school in Leeds to achieve this status and received personal recognition from the local MP.
---
Progress of Disadvantaged Students
The progress of students in receipt of pupil premium improved further in 2016, in 3 and 4 levels of progress for both English and Maths. It should be noted that the 2016 English figure includes student's progress in the best of either English Language or English Literature.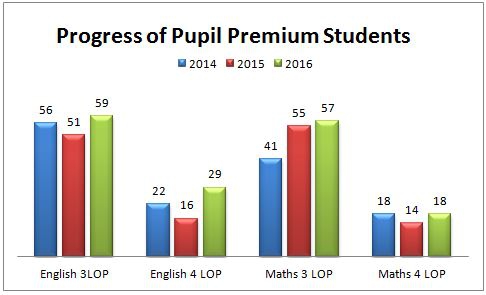 The Value Added of disadvantaged students increased significantly, from 933 in 2015 to 979 in 2016. The gap between pupil premium and non-pupil premium students in the school also narrowed significantly.

---
Attainment of Disadvantaged Students
The 5 A*-C attainment of students in receipt of pupil premium has increased in 2016 by a further 1%. Nationally the proportion achieving this in 2015 was 45%, which is 8% below that achieved by Pudsey Grangefield students in 2016.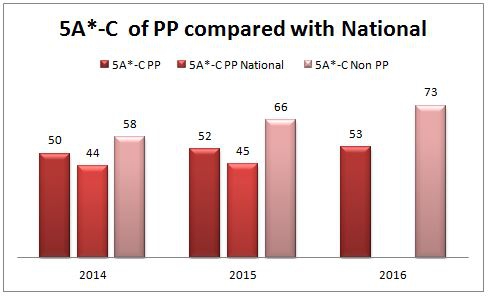 The proportion of pupil premium students achieving 5A*-C including Maths and English fell by 9% to 41%, but still remains 5% above the 2015 national for PP students of 36%. We recognise the need to improve further as it is still below the national for non-PP students of 63% in 2015 and there is still a 22% gap between PP and non-PP students in the school.