Guided Choices 2021
---
This page will help direct you towards information for Year 9 Guided Choices 2021.
On this page, you will find:
A presentation from the Deputy Principal.
A table linking you to further information on each course on offer, as well as a presentation from the Subject Leader.
Important points to consider.
The Guided Choices blocks.
The Guided Choices response form (deadline Wednesday 31st March).
---
Presentation from the Deputy Principal:
Please see the presentation from the Deputy Principal, Mr Tierney, which walks you through the Guided Choices process. There is also the presentation slides available separately below.
Presentation from Mr Tierney (Video)
Presentation slides from video above
---
Course Information:
---
Important points to consider:
Please read through the following information before viewing the guided choices blocks.
It is important to note that:
These choices are not final and are an expression of interest.
Interviews will take place after the Easter break to discuss the subjects which students have selected, to ensure that they are best suited for the student.
English, Maths, Science, Core PE and PSHE are all mandatory subjects.
Students will then take 4 further guided choices courses alongside these mandatory subjects.
Students are expected to take History or Geography as one of their guided choices.
Students are engouraged to study a Modern Foreign Language (MFL) Subject to broaden there future prospects.
"The EBacc is a set of subjects at GCSE that keeps young people's options open for further study and future careers" - DfE. To achieve an EBacc, students need good GCSE passes in:


English Language & English Literature
Mathematics
Combined Science (2 GCSEs)
History or Geography
French or Spanish

Letters will go out to parents/carers once course selection has been finalised (end of May).
---
Guided Choices Blocks: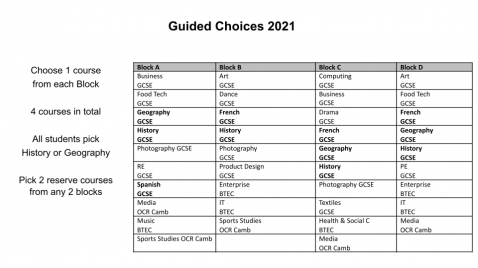 Click on the image above to view the choices full screen. It is also available to download in PDF form here.

---
Submitting your Guided Choices:
To submit your guided choices, please complete the Google Form using the link below.
The deadline for responses is Wednesday 31st March.